Onions - Red
With their mild flavour and distinctive purple / red colour, Sumich's Red Onions are highly regarded as an ideal salad onion. Best eaten raw or grilled, the Red Onion has a distinctive flavour and texture.
Extensive testing has been undertaken over the past 20 years to ensure the variety of red onion grown is specifically suited for the Tasmanian growing environment, with careful assessment of key product characteristics to ensure that premium quality is maintained.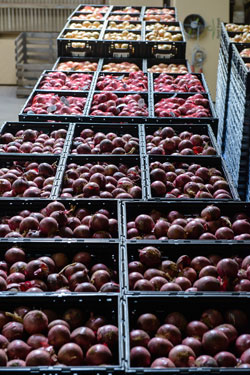 Hybrid red onions are grown in the warmer Northern Midlands region of Tasmania while new early maturing varieties are being developed for the rich volcanic soils of Tasmania's North west.
Tasmania's low incidence of plant pests and diseases ensures that chemical usage is minimised.
Packing sizes:
10 kg, 20 kg and 25 kg net bags, palletised
600kg and 750 kg bins
Shipments from February to October
Recommended Storage:
Well ventilated ambient or refrigerated storage