Growing, Harvesting & Processing
Sumich has rapidly established itself as one of Australia's leading producers of premium extra virgin olive oil, located in the heart of the pristine Moore River region, Western Australia's premier olive growing district.
Like premium Australian wine, detailed attention to quality has been paid to every step of production. It is only through such attention to detail that a premium extra virgin olive oil can be produced.
Sumich extra virgin olive oil starts with the finest fruit. Our groves contain a selection of classic Italian and Spanish olive varieties carefully chosen to flourish in an Australian environment and produce only the best olive oil
Australia's clean and green environment is recognized worldwide and has an enviable reputation for the quality of its produce and sustainability of its practices.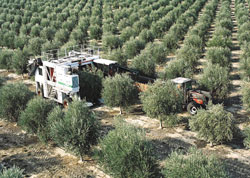 With long dry summers and short cold winters, our trees experience two distinct growing seasons each year resulting in high grade fruit full of premium oil. Cooled daily by the sea breezes and nurtured by pure clean artesian water, there is arguably no better place in the world to grow olives.
Sumich olives are harvested quickly using mechanical harvesters to ensure the quality of the oil is retained. Once harvested the fruit is then taken to the Sumich processing plant to be pressed into olive oil within a few short hours of being harvested.
A combination of advanced grove management practices, new harvesting technology and speed of processing allows us to guarantee fruit quality. This results in all our extra virgin olive oil being of premium grade.
Sumich's state of the art olive processing plant also located within the Moore River Region ensure all fruit is processed within hours of being harvested. This ensure maximum freshness and quality of its extra virgin olive oil. The processing plant uses some of the latest equipment to come out of Italy.