Onions - Cream Gold
The strong flavor, good shape, consistent texture and long shelf-life have reserved Tasmanian grown Cream Gold Onions have premium place in markets around the world.
These onions are uniquely Tasmanian and are of premium quality due to them being grown to stringent standards of safety and quality, in one of the richest agricultural regions in the Southern Hemisphere.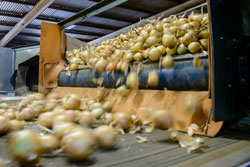 The superior quality of Tasmanian Cream Gold Onions can be traced back two decades to the research and development of seed best suited to Tasmanian conditions - a mild climate with reliable rainfall and irrigation, rich volcanic soils and minimal disease. Natural advantages complemented by long crop rotations and a management regime that strictly monitors every stage of product life.
Packing sizes:
Bulk (loose) in cantainers
750 kg and 1200 kg bulk bins, 1200 kg bulk bags
10 kg, 20 kg and 25 kg net bags and 1200 kg bulk bags, palletised
Shipments from February to July
Recommended Storage:
Well ventilated ambient storage
Out of direct sunlight and ideally stable temperature